When We Meet
Meetings are held the THIRD THURSDAY of each month from September through November, and January through April at Village Pizza and Pub.
Our annual Christmas party takes place in early December at the Millrose Restaurant in South Barrington, IL.
Join Trout Unlimted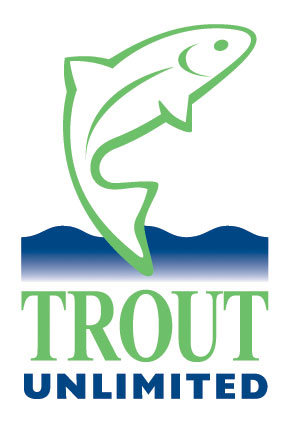 Click Here to Join
If you wish to join our Lee Wulff chapter, please be sure to include our chapter name and number (#448) on your application.
Coldwater Conservation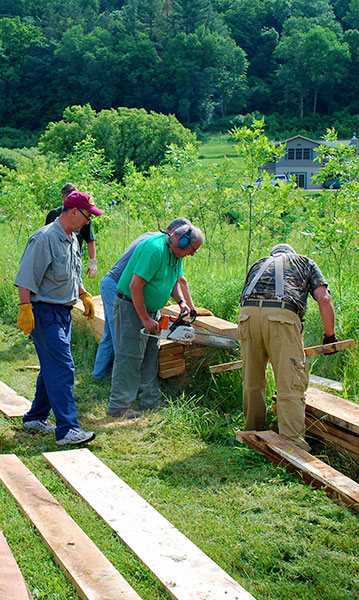 Baby Trout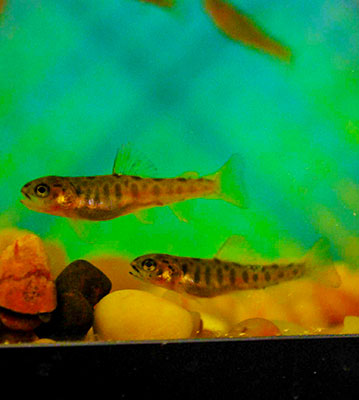 Who are we, what we do
Welcome to the Lee Wulff Chapter of Trout Unlimited. Initiated in 1984, we are committed to the conservation, protection and restoration of North America's cold water fisheries and their watersheds.
Our monthly meetings include a casual dinner and social time, followed by a presentation by a guest speaker. Speakers include fly-fishing expert guides, authors, aquatic entomology and invasive species specialists, our own talented members and many others.
We offer group outings to the Wisconsin Driftless area, The AuSable River in Grayling Michigan, and the Pere Marquette River in Michigan, and participate with Wisconsin area TU chapters to help with conservation projects and stream restorations. Our volunteer members work with local schools to teach Trout in the Classroom as well as our youth program. We provide weekly fly tying sessions at Cabela's, Hoffman Estates.
We welcome women fly fishers, contact Meg Gallagher, Chapter President. Please come and join us in a casual, friendly and welcoming setting.
Trout In the classroom
Trout in the Classroom is a program developed by TU to teach students about trout and their habitats as well as to learn about conservation & ecosystems. Our chapter works with Dundee Middle school each year. The students have the opportunity to help raise trout from eggs to small fry, and then participate in the release of the trout in the spring.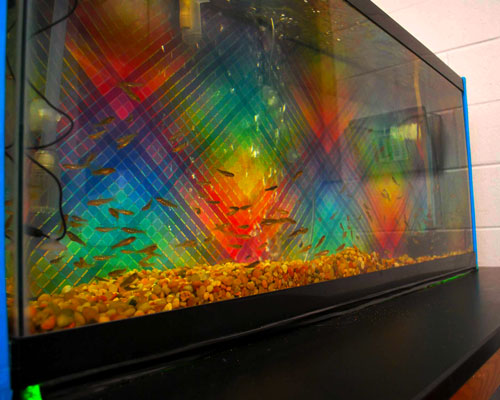 Youth Program
In partnership with the Northern Illinois Special Recreation Association (NISRA), Max McGraw Wildlife Foundation and LL Bean, our Chapter created the award winning Fishin' So Fly program for at-risk youth. This unique program brings local needy children together with Lee Wulff TU members to create valuable and life-changing experiences to both the children and members. Fishin' So Fly includes 4 weekly fly fishing instruction and conservation clinics and a day trip to the streams of the Driftless Area of Southwest Wisconsin during the month of May. Consider sharing your love of fly fishing with children who would otherwise, never have this opportunity. Consider volunteering today….you will be hooked on this rewarding experience!
Upcoming Events
Women's Beginner Clinic
This year we are going to be sponsoring one lucky woman candidate to attend the South West WI Trout Unlimited Women's Beginner Clinic in June. As part of our growth we want to see more women getting involved in the sport, and this gives one of our women members , spouses of members, or immediate family of a member (daughter or granddaughter) a chance to attend this fabulous clinic taught by women for women.
Click here to learn more
April Chapter Meeting - April 21, 2016
Our guest speaker this month will be our good friend Jim Romberg from Fennimore, Wisconsin. Jim guides in and around the Fennimore area and has a lifetime of experience fishing the Driftless.
SWTU Workday – April 23, 2016
Sugar River - Neperud Property 9am - 12 noon Where: 1065 Hwy 69. South of Paloi. It is the farm on the west side of Hwy 69, across from the turn into Basco.
Click here to learn more
May Chapter Meeting - May 7, 2016
Our May Chapter meeting will be the second annual Lee Wulff Family Picnic. This year's picnic will be on Saturday May 7 from 2 pm to 6 pm at the Sun City Pavilion in Huntley. Mark your calendar for food and drinks, games, friendly competitions, and fun activities for the kids.
SWTU Workday – May 14, 2016
Sugar River - Neperud Property 9am - 12 noon 12 noon - Chapter Picnic - everyone is invited to view this new easement. Where: 1065 Hwy 69. South of Paloi. It is the farm on the west side of Hwy 69, across from the turn into Basco.
Click here to learn more
Places We Like
Trout in the Classroom students release young trout